CineFeatures UK
Launching as a new independant quasi-local Cinema, CineFeatures approached Memory for the build of their new website.
Being a unique business, an entirely custom solution was created for listing films, managing events and booking tickets through the website.
Julia Hailes MBE
Julia Hailes has a very diverse and active portfolio and resume. She was unhappy with her website as it had become cluttered over time and a pain to navigate.
Our response was a fresh and earthly design, that incoporated all of her enterprises without comprimising on a clean layout.
Cotswood Gun Room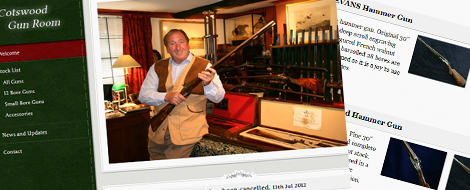 The Cotswood Gun Room deals in antique shotguns and game guns. It is popular worldwide due to the quality of the items on offer.
The website was old and outdated, but it was easy to navigate. As a result usability was a high priority in the new design, and Wayne is often complimented by old and new fans alike.
A new CMS was built, vastly improving the time necessary to manage the website. Since the overhaul, SEO has improved and traffic is up.
Wes Helms Baseball Camp
To promote his local MLB baseball camp in the Birmingham area, Wes Helms of the Florida Marlins turned to us for help developing his baseball camp brand website.
Our team developed a custom design, registration form, admin area and fully optimised the site for search engines.
The first year was a great success, and Wes Helms returned to manage the website for the second year.
LGP Carpentry
LGP Carpentry needed a simple website to advertise his services as a carpenter to prospective clients. The website lists the aspects of carpentry he offers, as well as several methods and contact and a portfolio.
We included an incredibly easy to use portfolio management system so that the Website's portfolio can be updated regularly
Total Party
TotalParty is a completely custom party ordering website, with separate administration panels for special users, payment & signature gateways, and a unique Party Building system.
VolksLove
VolksLove is the new place for Classic Volkswagen enthusiasts to get all the services they need for free!
We created an easy to use web site with exciting styles by keeping navigation direct and clear. With full Customer and Administrator management systems this website is easily maintained.
By continually updating and improving key words and phrases this web site increases it's own Search Engine Rank Position which we analyse monthly to ensure that VolksLove continues to get recognised.
Swindon Painters
Swindon Painters was created for AJ's Painting and Decorating based in Swindon who provide quality and affordable services to the domestic and commercial market.
They originally used their previous host's web site creation tool which lacked in style, functionality and clean scripts. They soon realised that this had a negative effect on their company due to looking stale on the internet which is when we came in and saved their reputation from being damaged by re-styling their web site and making sure it was easy to use and appealing.
Chris Horton Investments
Chris Horton came to us in need of a new website. His old one was dated in design, and wasn't converting visitors to sales. We refreshed his entire brand with this clean and functional website.
This user friendly website has been build to make it clear to the users what it is that Chris Horton does. It boasts easy to use navigation so that users can find exactly what they are looking for.
RebuildBabel
RebuildBabel came to us for a redesign of their dated, stripped-down website. To accompany this, the main function of the website needed a rewrite, with an Ajax injection.
We came back with a modern design which reflected where they are today as a dedicated multilingual business.
The new website used a mix of jQuery and PHP to keep things as user-friendly as possible.
BensBox
BensBox is an online tutorial community to teach the ins and outs of web design and development for free.
We designed the website to be 'easy on the eye' and to have incredibly simple navigation including bookmark functions for registered users to save specific tutorials to their own user area. As well as the web site, we also set up a You Tube account to allow the use of video media to offer members an easier way to learn from the tutorials.
With a complete tailored CMS, the entire site can be managed easily and effectively.
Dictionary.hm
Dictionary.hm is a small ajax web application which loads word definitions to users as they typed the word - in a similar fashion to recently released Google Instant. The design was very minimalistic which represented the idea of a hassle free web app.
The development included gathering and processing the definition data into a workable database.
When launched, visitors to the site quickly grew to thousands daily, which meant we needed to quickly upscale the hosting to cope with the traffic increase.
HostGreen
HostGreen was an environmentally conscious web host which needed a design to reflect and accentuate their views on a clean environment.
The result was this fresh, clean, light & minimalistic design which used a very natural sky blue & grass green colour scheme.